Baumans wrap up Southern Region, locked into Hunt for USMTS Casey's Cup
May 7, 2016
The Bash Bros joined the USMTS Casey's Cup Series in Texas this past weekend for the final three events in the Production Jars Southern Region presented by Day Motor Sports.
Action kicked off with the 2nd Annual North Texas Nationals at the Superbowl Speedway in Greenville on Thursday, May 5. Both of Nitro Lubricants machines finished third in their heats and started 10th and 11th in the main event. Brock had a strong feature showing, finishing 10th after a first-lap pile-up. Cody's feature performance wasn't very impressive, but he did end up salvaging a 14th-place finish. Despite the front end damage taken to the #6 car on the first lap, it was still running sixth midway through the race and held on for a top-10 finish.
On Friday, the series moved to the Lubbock Speedway. Cody ran third in his heat and locked himself into the feature. Brock lost something on the front of the motor during his heat, taking out the radiator and water pump.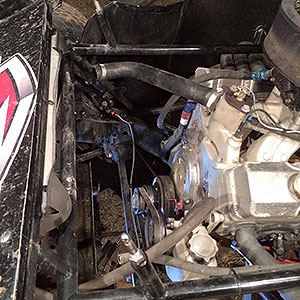 He ended up getting his car pieced back together and snagged a 16th-place finish after transferring in with a provisional. Cody started and finished 12th.
The weekend wrapped up on Saturday, May 7, with the 7th Annual USMTS Amarillo Ambush at the Route 66 Motor Speedway in Amarillo. After fourth- and fifth-place finishes in their heat races, Cody won his "B" Main and started 13th in the main event. Brock made it through his "B" Main as well and rolled off 20th. Cody lost a motor with ten laps to go and ended up 22nd. Brock, on the other hand, had a nice run coming from 20th to 13th. The team really couldn't afford to lose another motor this early in the season, but nonetheless they will be Ogilvie Raceway in Minnesota on Thursday night.
In the final Production Jars Southern Region points, both drivers finished with perfect attendance and rankings among the top 15, which locked them into this year's Hunt for the USMTS Casey's Cup powered by S&S Fishing & Rental.
In the Grant Junghans Rookie of the Year points, Brock continues to lead with Cody riding in third.
The team has a short week ahead, and a ton to do. The series will be trucking into the Gopher State next week to kick off action in the RealTruck.com Northern Region presented by Day Motor Sports. On Thursday, May 12, the invades the Ogilvie Raceway, and then Friday, May 13, finds the tireless USMTS touring titans at the I-94 Speedway in Fergus Falls. Then on Saturday, May 14, the high-flying half-mile touted as the fastest dirt track in Minnesota--Viking Speedway—hosts the USMTS road warriors for a second straight season.
For full results and news, or to learn more about the United States Modified Touring Series, visit www.usmts.com.
Bash Bros Team Flat Bill